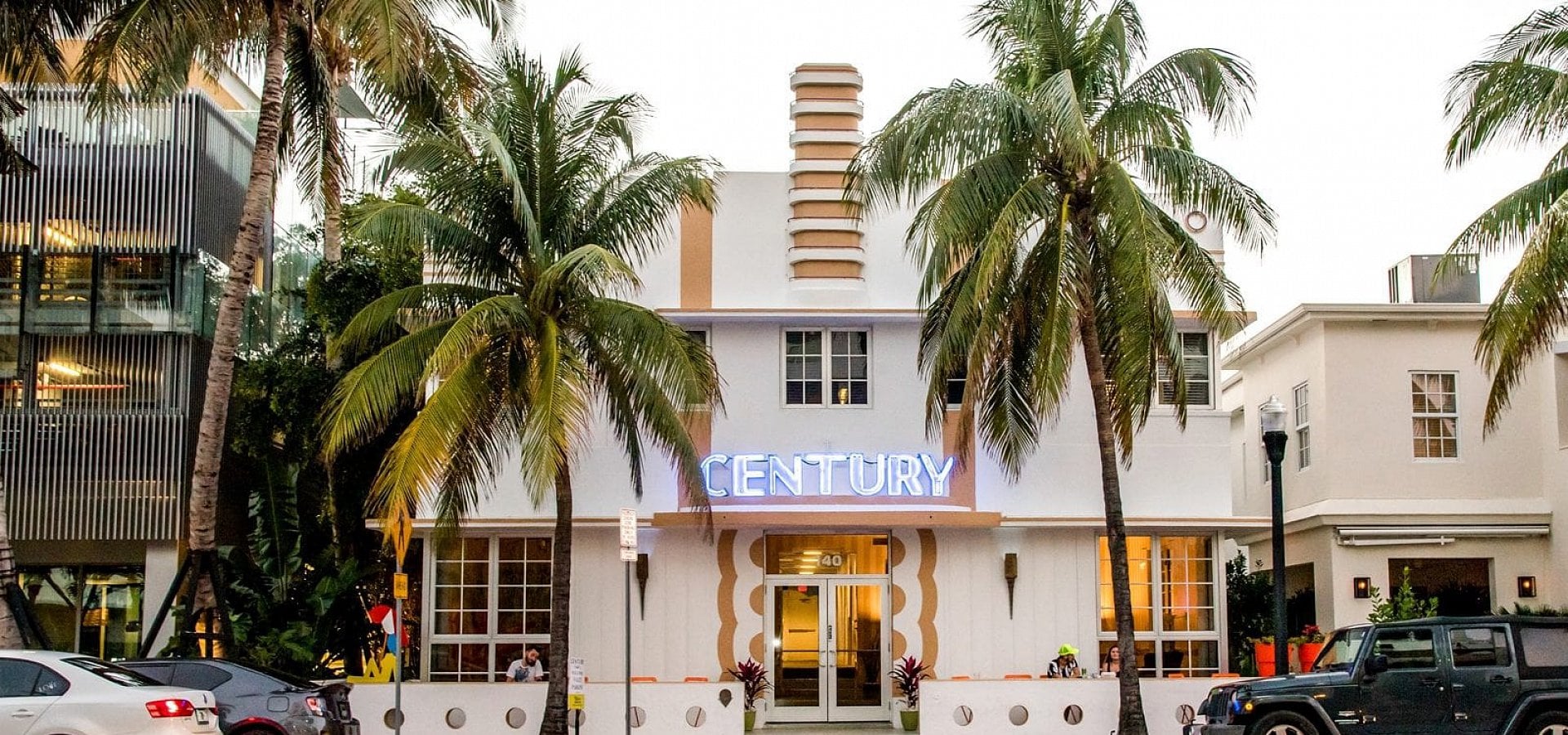 Built in 1939, completely renovated in 2018, the century hotel is located in the most exclusive area of south beach, on the famous ocean drive, just steps from the beach.
Century Hotel South Beach
25.770654
-80.133066
13
roadmap
/upload/iblock/855/8556bbca3f27f7b6690803f25242649a.jpg
Miami Beach, Ocean Drive, 140
Close
Located on a barrier island and connected to the mainland by a series of bridges, Miami Beach is a mix of quiet neighborhoods, lively entertainment-focused areas, and long stretches of soft-sand beaches. For visitors, South Beach and the Art Deco Historic District, with pastel buildings from the 1930s and early 1940s sporting classic neon signs, is one of the main highlights. An expensive tourist district, this area features numerous beachfront restaurants, shops, hotels, and plenty of sunbathing opportunities. The most popular street in this area is Ocean Drive, a section of road located along the oceanfront and home to some beautiful Art Deco buildings. One block inland, running parallel with Ocean Drive, is Collins Avenue. Collins Avenue is actually State Road A1A and is the main oceanfront street in Miami Beach, joining numerous neighborhoods.
Miami Beach
25.819473
-80.128516
13
roadmap
/upload/resize_cache/iblock/5fa/700_700_1/5fa3b863f99a39c5f02b60a6c98298a3.jpg
Close
Art Deco Historic District
Even if you have no interest in the beach, the Art Deco Historic District is worth a trip out to Miami Beach. This architectural style, popular in the 1930s and 40s, dominates the trendy South Beach neighborhood. These uniquely designed buildings, in a range of pastel colors and displaying large neon signs, were built following a devastating hurricane that struck in 1926. Many are hotels and restaurants, most of which have been beautifully restored. Along some of the main streets, awnings on the lower level of these buildings provide shade for outdoor dining areas. Ocean Drive and Collins Avenue are the two main streets through the area.
If you are interested in staying in one of these historic gems, many of the Art Deco buildings still function as hotels and have much more character than modern hotels. Some good options are the luxury Delano South Beach or National Hotel Miami Beach, or the more moderately priced Hotel Breakwater South Beach.
Art Deco Historic District
25.780317
-80.130368
13
roadmap
/upload/resize_cache/iblock/9f2/700_700_1/9f25842c3d278e35cf1dffa08fdea098.jpg
Close
Located at the southern end of Miami Beach is a glorious stretch of sand known as South Beach. This wide section of beach fronts the ocean in the neighborhood of the same name. Often packed in summer, this is the most popular beach in Miami and one of the top beaches in Florida. It's a place to see and be seen, but also a place to swim and enjoy the shallow waters, escape the heat, and soak up the sun. A paved walk lines the beach, and in behind is Ocean Drive, where motorists cruise slowly by and take in the sights.
South Beach
25.782543
-80.133318
13
roadmap
/upload/resize_cache/iblock/aac/700_700_1/aacf5e76fdcbe86872442b128f3fbecf.jpg
Close
Vizcaya Museum and Gardens
This National Historic Landmark, set on 28 acres, was the luxurious winter home of 20th-century industrialist, James Deering. Built in 1916, the mansion features 34 rooms arranged around a central courtyard. It took more than 1,100 workers and craftsmen to complete the Vizcaya project, many of whom were brought over from Europe to ensure authenticity in design. The Italian Renaissance-style villa is filled with an impressive collection of European furniture and decorative arts from the 15th to 19th centuries.

The grounds and gardens contain beautiful Italian and French fountains, pools, and sculptures. A breakwater at the base of the steps leading into Biscayne Bay is an ornately carved barge, featuring female figures.
Vizcaya Museum and Gardens
25.744454
-80.210496
13
roadmap
/upload/resize_cache/iblock/2ec/700_700_1/2ec9e1467a12f8fce63190b2d82dcd76.jpg
Close
Everglades National Park, just a short drive from Miami, protects one of Florida's most unique natural features. These swamplands, covering about 1.5 million acres, are home to alligators, crocodiles, snakes, and all kinds of birds. This whole area is essentially a shallow river flowing out to the ocean. Within the park is an informative Visitors Center, as well as walking trails and boardwalks for wildlife viewing. One of the most enjoyable ways for tourists to experience the Everglades is on an airboat tour. These high-speed boat trips take visitors out into the marshes and streams to see alligators and other wildlife. There are several operators in the area, but outside the park, that offer tours of the Everglades.
A convenient and fun way to see the park is on a Miami Everglades Airboat Adventure with Transport. This half-day tour provides transport from your hotel to the park, includes a 30-minute airboat ride, a live alligator show at the Everglades Alligator Farm, and transport back to your hotel.
One of the most popular walking trails in the park is the Anhinga Trail, which leaves from the Royal Palm Visitor Center. This trail is less than a mile long but leads through terrain where visitors are likely to see alligators and other animals. This trail is wheelchair accessible and non-strenuous.
Everglades National Park
25.289878
-80.894641
13
roadmap
/upload/resize_cache/iblock/565/700_700_1/565d51e1e2152a159e102a20e540a438.jpg
Close
Bayside Marketplace is a large outdoor-style mall with more than 150 specialty and tourist shops, numerous cafes and restaurants, and daily live entertainment. Visitors will find some well-known chain stores, as well as many unique, one-of-a-kind places. The marketplace draws locals as well as tourists.
As may be evident in the name, the mall is located along Miami's waterfront, looking out over docks and boats. Many people come here simply to soak up the atmosphere. Tour boats leave from here, visiting locations around Biscayne Bay. There is also a water taxi service to Miami Beach and downtown hotels located in the area.
Bayside Marketplace
25.778125
-80.187095
13
roadmap
/upload/resize_cache/iblock/95e/700_700_1/95ed165216c83cb347c3606c27fd0c39.jpg
Close
Little Havana and Calle Ocho
Little Havana, the Cuban district of Miami, isn't known for its wealth of tourist attractions but more for its distinctive cultural scene. Restaurants and specialty food shops line the streets, and Latin music drifts through the air. Locals socialize in the open spaces. Murals grace the walls of buildings, showing important Cuban figures and scenes of daily life. Calle Ocho is the main thoroughfare running through the district and home to much of the activity, but Little Havana spreads well beyond, into the surrounding streets and avenues. For people-watching, the area offers a great deal of entertainment. And of course, this is the place to come for Cuban cuisine.
The Calle Ocho Festival, held in March, is a celebration of Cuban culture and the largest of its kind in the world. Over the years this street festival has expanded to include more Latin American cultures and is now a great way to experience Latin American music and Caribbean cuisine.
Little Havana and Calle Ocho
25.775236
-80.236714
13
roadmap
/upload/resize_cache/iblock/c76/700_700_1/c76727b7bd4d012f4dc6c63ab38a0cf4.jpg
Close
Bayfront Park, on the east side of Biscayne Boulevard, is a 32-acre green space, adjacent to the Bayside Marketplace. The park has several interesting monuments and sculptures. One of the unique features is the electronically controlled Pepper Fountain. Other highlights include the Challenger Memorial, commemorating the crew of the Challenger spacecraft; the Light Tower, an amphitheater used for musical performances of all kinds; and a children's playground. Locals often come here just to run or walk on the paved trails.
Bayfront Park
25.773103
-80.187324
13
roadmap
/upload/resize_cache/iblock/454/700_700_1/454b71bbd7a85c1dfdce1eb803d12cff.jpg
Close
The American Airlines Arena is the home of the NBA's Miami Heat. It is also the main venue for large concerts and other special events, including top name singers and performers. It can hold more than 19,000 people. The structure itself, opened in 1999, has been awarded the Leed Green Building Certification for being an energy efficient building. The arena stands out prominently on Biscayne Bay in downtown Miami.
American Airlines Arena
25.781404
-80.187683
13
roadmap
/upload/resize_cache/iblock/3f1/700_700_1/3f142cfd9b5edd6cd71f56b0f8b839a8.jpg
Close
Zoo Miami houses more than 3,000 wild animals, including 40 endangered species. Unlike many traditional zoos, animals here are grouped with other species they would normally co-exist with peacefully in the wild, and kept in settings similar to their natural habitats. This is the only zoo in the continental United States located in a subtropical climate. More than 1,000 species of trees and plants can also be found on the grounds, including a large collection of orchids.
Children will find plenty of entertainment options. If they are bored with the animals, they can head over to the play areas and enjoy some splashing around at the water-themed play area.
Zoo Miami
25.611545
-80.397486
13
roadmap
/upload/resize_cache/iblock/3d5/700_700_1/3d5f3457f1761d3cef2d47d8b2c8a02e.jpg
Close
Jungle Island is a bird sanctuary, wildlife habitat, and botanical garden. Parrots and other exotic birds fly about in tropical forest settings, some of which take part in daily shows. Larger animals, including tigers, baboons, alligators, tortoises, monkeys, and orangutans are also a big part of the attraction. The gardens contain around 2,000 varieties of exotic plants, including heliconias, bananas, orchids, and bromeliads.
Jungle Island was affected by Hurricane Irma in the fall of 2017 and is closed for improvements until mid-2018.
Jungle Island
25.786082
-80.175051
13
roadmap
/upload/resize_cache/iblock/dc7/700_700_1/dc743e73c0f5e971d6ef8a91e4c5b2a7.jpg
Close
This former home of Charles Deering is a 444-acre estate, protecting globally endangered pine rockland habitat, as well as coastal tropical hardwood rockland hammocks, mangrove forests, salt marshes, and a coastal dune island. Listed on the National Register of Historic Places, Deering Estate at Cutler is home to the Richmond Cottage, which served as a hotel, as well as historical buildings dating from 1896 to 1922, and an American Indian burial ground dating from 1500.
Charles Deering was an art collector, who, along with his brother James, accumulated a great number of works by the Old Masters. Deering himself also painted, and some of his works are on display here. The Artist Village at the estate has become an important cultural center, featuring art and artists programs.
Deering Estate at Cutler
25.615491
-80.306917
13
roadmap
/upload/resize_cache/iblock/3d9/700_700_1/3d9014840c90a32a09e44d7a6ccf6821.jpg
Close
In the warehouse district of Wynwood, the formerly drab exterior warehouse walls have been transformed into colorful pieces of art. The Wynwood Walls, plastered in street art, or what most people think of as graffiti, have brought new life to this area. Brought about by Tony Goldman in 2009, the district has attracted big names in the world of street art from across North America and around the world. Since it was started, more than 80,000 square feet of wall space has been graced with paintings in this unique artform.
Wynwood Walls Street Art
25.801141
-80.199324
13
roadmap
/upload/resize_cache/iblock/b81/700_700_1/b813cc65ac1890f16a5c86b09bacf5d7.jpg
Close
The Coral Castle is the result of one man's 28 years of carving, using his own home-made tools. This incredible creation, made of limestone, was built by Edward Leedskalnin between 1923 and 1951. He kept his methods private and would not allow anyone to watch him work, leaving many people to wonder how he did it. Today, you can tour the property and see the most famous structure, a giant stone gate, which opens effortlessly with the touch of a finger, as well as carvings that include stone tables and chairs, unique figures, and other pieces.
Coral Castle
25.500323
-80.444430
13
roadmap
/upload/resize_cache/iblock/e01/700_700_1/e01eff24bad2b03a63a2317c5f9c21e0.jpg
Close
One of the most striking buildings on Biscayne Boulevard, Freedom Tower displays a "wedding-cake" style. Built in 1925, it is one of the oldest skyscrapers in the southeastern United States, and served for many years as the headquarters of the Miami Daily News.
Its name comes from its role as the immigration-processing center for hundreds of thousands of Cuban refugees who arrived in the 1960s. Today, it stands as a tribute to Cuban immigration and is used, in part, as a contemporary art museum.
Freedom Tower
25.780321
-80.189660
13
roadmap
/upload/resize_cache/iblock/ce9/700_700_1/ce9199c86b044a8ce09c480590fd6b40.jpg
Close
Always a fun outing for children, the Miami Children's Museum is housed in a colorful and creatively designed facility with more than 56,000 square feet of space. Educational and entertaining exhibits are designed to appeal to children's curiosity and creativity. Fourteen themed galleries revolve around arts, culture, community, and communication, and four outdoor exhibits allow kids a chance to play and enjoy time outside.
Miami Children's Museum
25.784620
-80.176592
13
roadmap
/upload/resize_cache/iblock/445/700_700_1/4453b472adc74b2ae82c070ed3696844.jpg
Close
Key Biscayne and Crandon Park
South, beyond Miami Beach and over the Rickenbacker Causeway, is Key Biscayne, a small community with lovely beaches and beautiful parks. Of particular note is Crandon Park with an offshore reef that leaves the shoreline protected from big waves and perfect for swimming. The park has a Family Amusement Center, making it particularly popular with families, and a Nature Center. There is generally ample parking, good facilities, chair rentals available, and lifeguards on duty.


Key Biscayne and Crandon Park
25.708334
-80.159148
13
roadmap
/upload/resize_cache/iblock/0c0/700_700_1/0c0b337666bc185a08359952f1711fbe.jpg
Close
Miami Beach Convention Center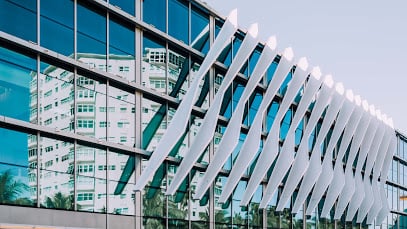 Miami Beach Convention Center
25.795167
-80.134709
13
roadmap
/upload/iblock/121/1215504eb598adaf300fff277219a5bb.jpeg
1901 Convention Center Dr, Miami Beach, FL 33139, USA
Close



Century Hotel South Beach
Miami Beach

Art Deco Historic District

South Beach

Vizcaya Museum and Gardens

Everglades National Park

Bayside Marketplace

Little Havana and Calle Ocho

Bayfront Park

American Airlines Arena

Zoo Miami

Jungle Island

Deering Estate at Cutler

Wynwood Walls Street Art

Coral Castle

Freedom Tower

Miami Children's Museum

Key Biscayne and Crandon Park

Miami Beach Convention Center

Century Hotel South Beach
Miami Beach, Ocean Drive, 140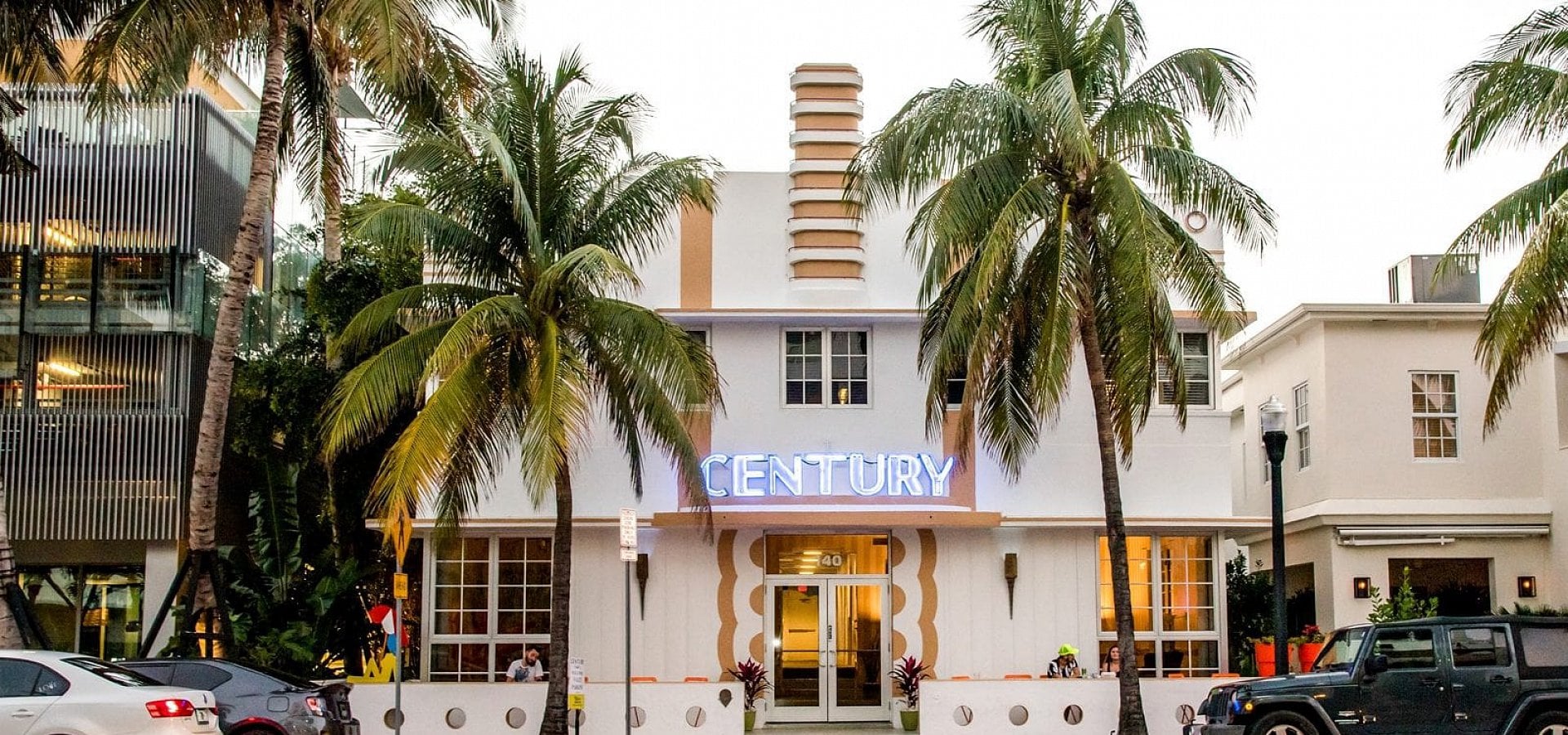 Built in 1939, completely renovated in 2018, the century hotel is located in the most exclusive area of south beach, on the famous ocean drive, just steps from the beach.